Overseas Bases
China
ATG: Anqing TP Goetze Piston Ring Co.,Ltd.

No.16 Ying Bin Road, Economic & Technical Development Zone Anqing City, Anhui, China.
TEL: +86-556-535-6926
FAX: +86-556-533-2143
ATGL: Anqing TP Goetze Liner Co.,Ltd.

No.24, three point nine square kilometer Industry Park Anqing Development Zone, Anqing City, Anhui, China.
TEL: +86-556-530-5107
FAX: +86-556-530-5105
ATGE: Anqing ATGE Engineering Co.,Ltd.

No.16 Yingbin Road of Economic & Technical Development Zone, Anqing City, Anhui, China.
TEL: +86-556-530-5600
FAX: +86-556-530-5600
ATP: Anqing TP Powder Metallurgy Co.,Ltd.

No. 1777 Tianzhushan Road Laofeng Town Yixiu District,
Anqing city, Anhui province, P.R. China.
TEL: +86-556-535-7242
FAX: +86-556-535-7385
AAT: Anqing Art TP Pistons Co.,Ltd.

No.317 Yingbin Road of Development AREA, Anqing, Anhui province, China.
TEL: +86-556-534-5382
FAX: +86-556-534-5482
CUPR: China United Piston Ring Co.,Ltd.

No.28 Baihe Street, Lang Sen Industrial Area of Lang Fang Economic & Technical Development Zone, Lang Fang City, Hebei, China.
TEL: +86-316-591-8087
FAX: +86-316-591-8089
NTEC: Nanjing TP Thermal Engineering Co.,Ltd.

No.6-1 Xingwen Road, Nanjing Economic & Technical Development Zone, Nanjing City, Jiangsu, China.
TEL: +86-25-8580-3553
FAX: +86-25-8580-3776
SLS: Sunlight Rubber Products(Shang Hai) Co.,LTD.

No.625 Xinge Road, Xinqiaozhen, Songjiang District, Shanghai, China
TEL: +86-21-5768-7272
FAX: +86-21-6768-7153
TPRT: TPR (TIANJIN) Co.,Ltd.

Room1101,The Exchange Tower2,189 Nanjing Road,Heping District,Tianjin 300051 China.
TEL: +86-22-2337-1182
FAX: +86-22-2337-1129
FCC: FALTEC CANTON

Rd., Sanhuan, Xiaotang Town, Nnhai
Guandong Province, China
FAP: FOSHAN FALTEC AUTOMOTIVE PARTS Co., Ltd.

No.1 Haitang Road National Eco-Park Danzao Town, Nanhai District, Foshan City, Guangdong Province, China.
ATEP: Anqing TPR Engineering Plastic Co., Ltd.

No. 1777 Tianzhushan Road Laofeng Town Yixiu District,
Anqing city, Anhui province, P.R. China.
TEL: +86-556-552-0761
FAX: +86-556-552-0761
Indonesia
EPIN: PT. TPR ENPLA INDONESIA

MM2100 Industrial Town Jl. Irian Blok LL-4 Cikarang Barat, Bekasi 17520, West Java, Indonesia
TEL: +62-21-8998-1520
FAX: +62-21-8998-1525
TPRIN: PT.TPR INDONESIA.

Kawasan Greenland International Industrial Center (GIIC) Block AE No.1, Kota Deltamas ,Nagasari, Serang Baru, Bekasi 17330 Indonesia.
TEL: +62-21-8997-7000
FAX: +62-21-8997-7007
TSIN: PT.TPR SALES INDONESIA.

Gd. Mid Plaza 1 Floor 19,Jl. Jenderal Sudirman Kav 10-11Jakarta Pusat, Jakarta 10220,DKI Jakarta,Republic of Indonesia.
TEL: +62-21-572-0720
FAX: +62-21-574-4312
API: PT.ART PISTON INDONESIA.

Surya Cipta City of Industry JI. Surya Kencana Kav.I-M1FGH Kutamekar, Ciampel, Karawang 41363 Jawa Barat, Indonesia.
TEL: +62-21-2961-4021
FAX: +62-267-8637-560
India
FMTPRI: Federal-Mogul TPR (INDIA)Ltd.

Doddaballapur Road, Yelahanka, Bangalore, 560064 India.
TEL: +91-80-2846-0090
FAX: +91-80-2846-0008
TPRI: TPR AUTOPARTS MFG. INDIA PVT LTD.

Plot No.SP2-37 & SP2-38(A) Japanese Zone Phase-Ⅲ, New industrial Complex (Majrakath) Neemrana 301705, District Alwar, Rajasthan, India.
TEL: +91-149-424-6092
FAX: +91-149-424-6098
Korea
Y&T: Y&T Power Tech., Inc.

110, High-Tech Sandan-ro, Samseong-myeon, Eumseong-gun, Chungcheongbuk-do, Korea.
TEL: +82-043-880-1200 ・1201
FAX: +82-043-880-1204
Vietnam
TPRV: TPR Vietnam Co.,Ltd.

26VSIPⅡStreet2 Vietnam Singapore Industrial ParkⅡ,Thu Dau Mot City,Binh Duong Province,Vietnam.
TEL: +84-650-3635-005
FAX: +84-650-3635-002
Thailand
TST: TPR Asian Sales (Thailand) Ltd.

23/83-84, 21st floor Sorachai Building Soi Sukhumvit 63, Sukhumvit Road, Klongton-Nua, Wattana, Bangkok THAILAND 10110.
TEL: +66-2-714-3300
FAX: +66-2-714-3305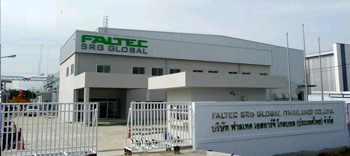 FST:FALTEC SRG Global (Thailand) Co., Ltd.

353 Moo7, Tambon Hua Samrong, Plaeng Yao District, Chachoengsao 24190, Thailand.
Turkey
FTLE: Federal-Mogul TP Liner Europe Otomotiv Ltd. Sti.

ISTANBUL ENDÜSTRI VE TICARET SERBEST BÖLGESI AYDINLI S.B.MAH.4.SOKAK NO:6 34957 TUZLA-ISTANBUL.
TEL: +90-216-394-1978
FAX: +90-216-394-1981
U.S.A
FTL: Federal-Mogul TP Liners, Inc.

520N.8th Street Lake City, Minnesota 55041 U.S.A.
TEL: +1-651-345-8083
FAX: +1-651-345-8072
UPR: United Piston Ring, Inc.

2318 WALDO BOULEVARD, MANITOWOC, WISCONSIN 54220 U.S.A.
TEL: +1-920-684-4609
FAX: +1-920-684-4371
FA: FALTEC AMERICA, INC

1806 Memorial Blvd.Suite E,Murfreesboro,
TN37129-1507, U.S.A.
TFT: TPR Federal-Mogul Tennessee, Inc.

201 Helton Drive, Lawrenceburg, TN,38464 U.S.A.
TEL: +1-931-762-3321
FAX: +1-931-762-3670
TPRA: TPR America,Inc.

10 North Martingale Road, Suite 145 Schaumburg, Illinois 60173 U.S.A.
TEL: +1-847-446-5336
FAX: +1-847-446-5344
Germany
FTE: Federal-Mogul TP Europe GmbH & Co. KG

Buergermeister-Schmidt-Strasse 17, 51399 Burscheid, Germany.
TEL: +49-2174-69-2870
FAX: +49-2174-69-2773
TPRE: TPR Europe GmbH

Berliner Allee 47, 40212 Dusseldorf, Germany.
TEL: +49-211-32-9773
FAX: +49-211-32-5183
United Kingdom
FEL: FALTEC EUROPE LIMITED

Unit 5, Didcot Way, Boldon Business Park, Boldon,Tyne&Wear, NE35 9PD, U.K.
Brazil
TPRBR: TPR Industria de Pecas Automotivas do Brasil Ltda.

Av. Armando Lopes Ribeiro 410, Colonia Rodrigo Silva, Porto Feliz, CEP: 18.540-000 SP, Brazil.