Our Technology
Our Technology
Cars make our lives richer. The car's power is its engine, which has a variety of issues. Of which, critical issues are the effective use of limited resources, fuel efficiency improvements to halt global warming, meeting emissions regulations to prevent harm to health and the environment, and supporting alternative fuels such as alcohol fuels and natural gas.
To provide products which contribute to these issues, TPR brings together the knowhow we have cultivated and our unique technology, working day and night to create environmentally-friendly products.
Fuel efficiency technology
To realize a fuel efficient engine, reducing the engine's friction loss is vital. At the heart of that is the piston ring, which is the support between the piston and the Cylinder Liner, for the piston's up and down motion.
TPR pursues the ideal shape, material and surface treatment, to develop Piston Rings which perform with little friction even under sever conditions of high temperature/high pressure.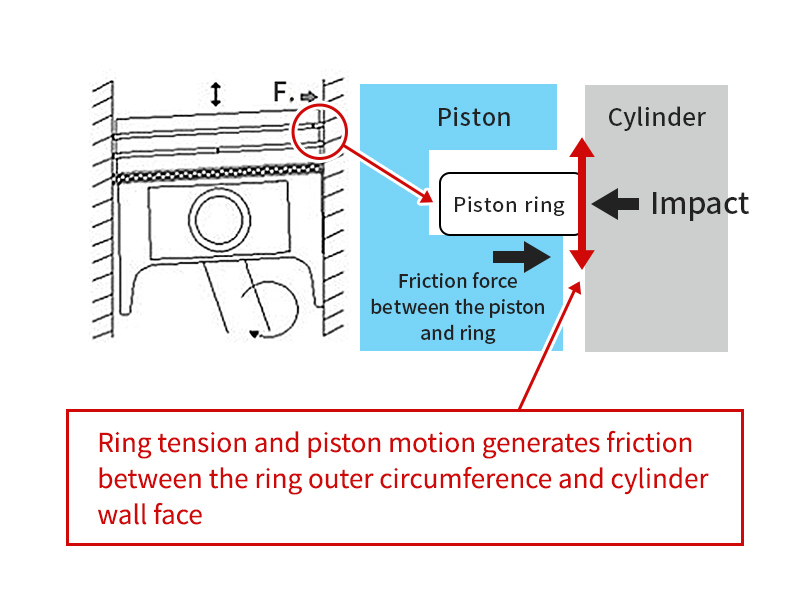 If the friction is lessened, the friction loss is reduced, which contributes to engine fuel efficiency.
TOP ring outer circumference eccentric barrel information page
2ND ring outer circumference specification optimization information page
Side rail outer circumference shape AB-1 information page
Meeting emissions regulations
To make emissions cleaner, EGR and exhaust fumes treatment devices have been adopted, changing the engine combustion environment and lubricating environment.
In response, on top of traditional PVD coating technology, TPR has quickly made DLC (diamond-like carbon) coating technology available for mass production, and offers Piston Rings with improved durability. Also, by improving piston ring precision, the gas seal function has been improved, contributing to making exhaust fumes cleaner.
Outer circumference surface treatment PCF03 information page
Alternative fuels technology
To reduce CO2 emissions on a global scale, alcohol fuels and natural gas are used as alternative fuels. Alternative fuels can be strongly corrosive, altering the environment for parts used around the combustion chamber.
At TPR we have brought together all our knowhow for surface treatment/material development, resulting in timely offering of products which support alternative fuels.
Effective use of resources for longer maintenance cycles
By adopting in-engine lubricating oil consumption reduction technology and technology that supports degraded lubricating oil, our products support a longer maintenance cycle.
As a result, it is possible to reduce the adding or replacement frequency of lubricating oil, realizing effective leveraging of limited resources.
Side rail outer circumference shape AB-1 information page
Inner circumference laser side rail NL-1 information page
Air-tightness improving ring 3CP-O information page
Spacer oil coat NS-1 information page
TOP ring outer circumference eccentric barrel information page
Spacer new shape Tx-3 information page