Reduce CO2 Emissions (Output Level)
Effort Status
As a medium to long-term goal for our environmental policy, for CO2, one of the greenhouse gases, we have set the goal of "reduction of 30% (output level) against 2013 levels by 2030", and we are striving toward this at all business locations.
Our results are as per the graph below, and on an output level basis the reductions are progressing on track. Nagano and Gifu have been recognized since 2019 for 6 years running as "S Class" (a business with excellent energy savings) in the Ministry of Economy, Trade and Industry's Regular Report on the Energy Saving Law.
Total emissions in 2020 have seen a major reduction, but due to the reduction in production volume the output level result has worsened.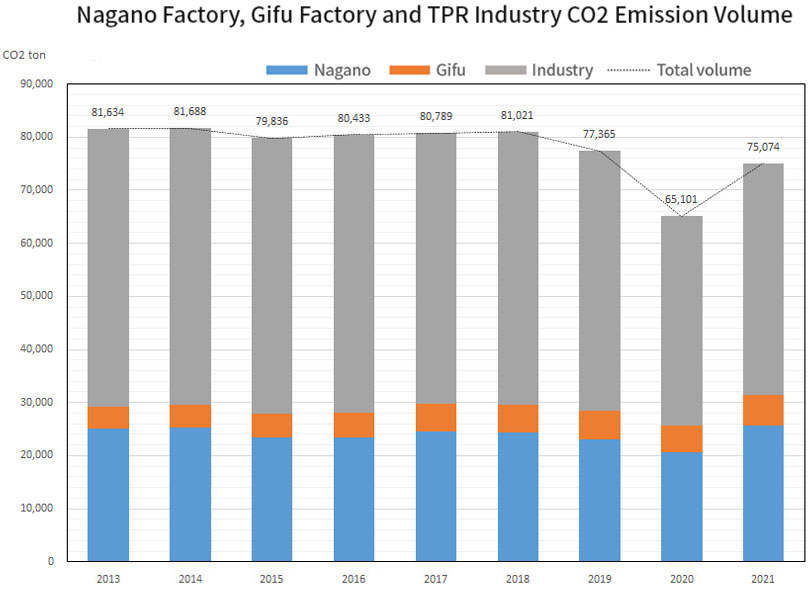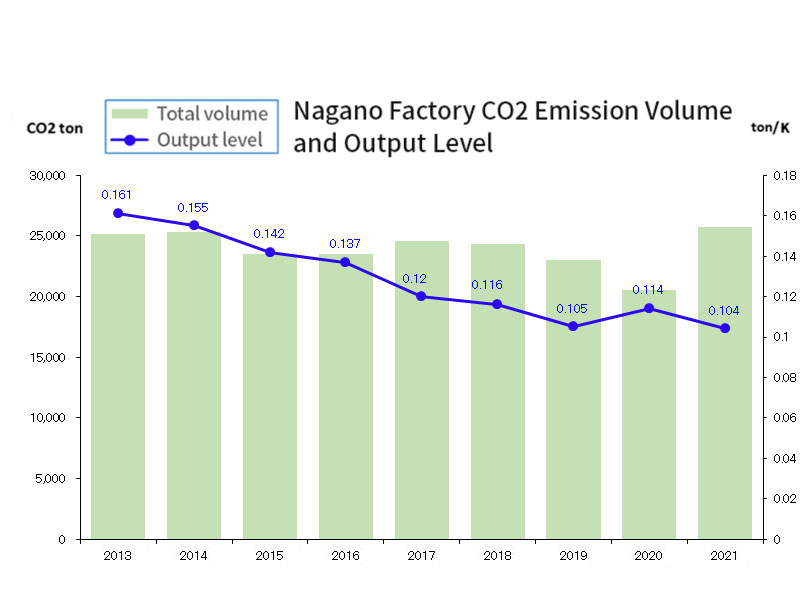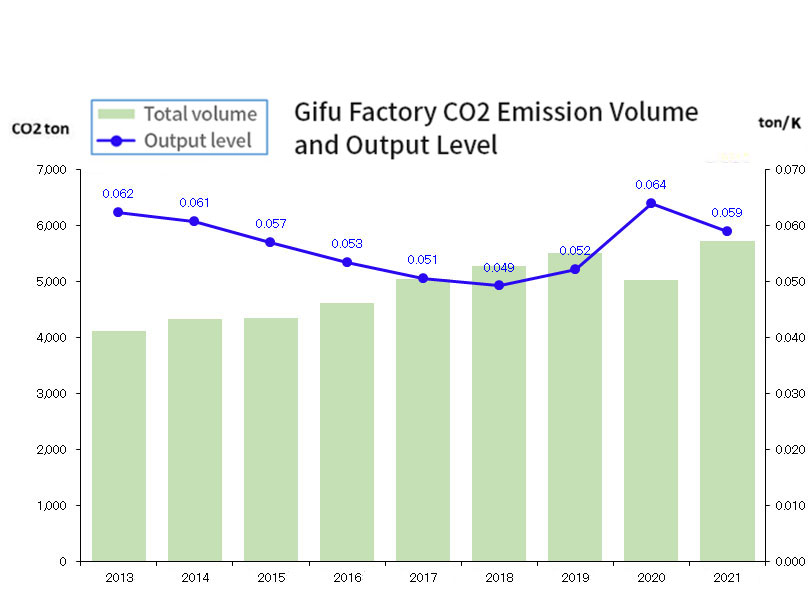 All business locations hold an "Environmental Conservation Meeting", extracting specific improvement ideas relating to power and fuel for factory infrastructure, products and production facilities, as we engage with CO2 emissions reductions.
Also, improvement ideas are shared at the "Company-Wide Environmental Conservation Meeting", and we are focused on promoting improvements so results can be seen across the whole of our Group.
Specific examples
Example 1 CO2 reduction through fuel improvement
Using the opportunity of work being done on natural gas piping around the factory, we converted to low-CO2 emissions natural gas for winter heating/surface treatment boiler fuel, etc.
CO2 reduction effect… 27% reduction
Example 2 CO2 reduction through sintering factory melting power reduction
Changed the coil used in the high frequency melting furnace to a coil with high energization efficiency, successfully reducing electricity usage.
CO2 reduction effect… 81 tons reduction per year
Example 3 Electricity/CO2 reduction by changing to LED lighting
CO2 reduction effect… 55 tons reduction per year
Example 4 Solar power generation initiative
Solar power generation business is underway at the Group company, TPR Total Service Co., Ltd. Furthermore, we are studying domestic consumption-type solar power general using factory roof space.